Jr Board Spring Show – "Cosmic Love"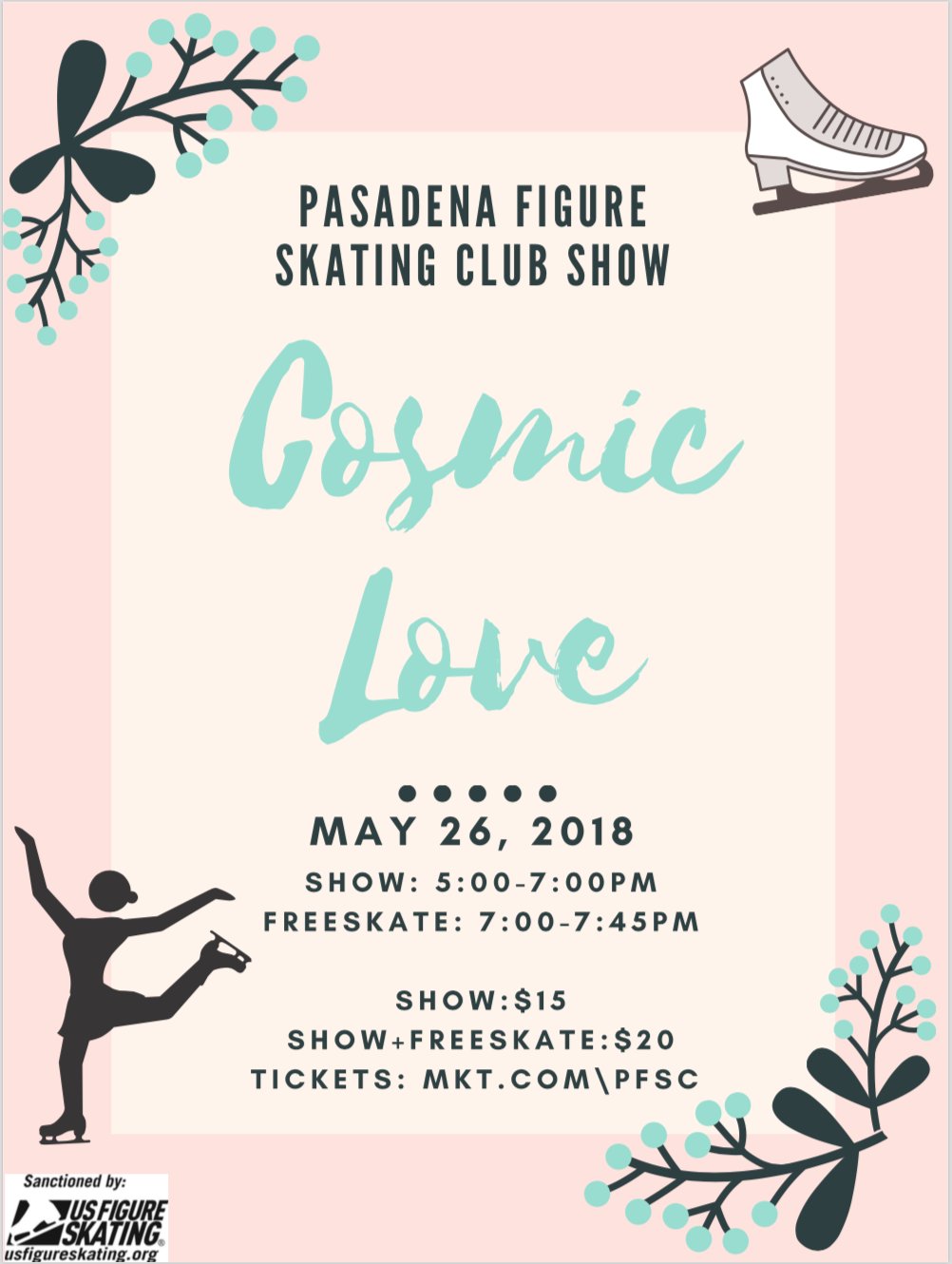 Reminder! Get your online tickets for this Saturday's PFSC Junior Board's Cosmic Love Show!
You don't want to miss seeing/supporting your talented friends, family and fellow PFSC members in this Saturday's Cosmic Love Figure Skating Show and Fundraiser from 5:00 p.m. – 7:00 p.m. at the Pasadena Ice Skating Center. Not only will there be a wealth of engaging acts from our members but also from our dynamic guest skaters as well! We have noted national and/or international skaters: Our guest skaters include Christy Leung, a six-time Hong Kong National Champion and world junior competitor, Raffaella Koncius, the 2017 Northwest Pacific Regionals Juniors Champion and 2018 Pacific Coast Sectionals Intermediate Ice Dance Pairs bronze medalist and Shotaro Omori, the 2013 World Junior bronze medalist and 2013 U.S. national junior silver medalist.
Tickets for family or friends to cheer on their beloved skaters range from $10-$20 are available online at https://mkt.com/pfsc and can be purchased right up until show time. Tickets will also be available at the door (cash or credit) for approximately $2 more. The option to skate after the show is available at the door for an additional $5. To ensure you are able to purchase as many tickets as needed; purchasing online is highly recommended. The "Cosmic Love" Show will be held at the Pasadena Ice Skating Center from 5:00 p.m. – 7:00 p.m. on Saturday, May 26th with a mandatory warm-up and group number rehearsal for skaters the same day from 4:15 p.m. – 4:45 p.m. with check-in at 4:00 p.m.
For more information, please click here